Post by BeeBR00741 on Jun 20, 2009 22:48:57 GMT -5
So here's the outline for the Violet Night characters, I know it's taken me a while, but I've been very busy with school because of summatives and exams.
the races available are as follows (most taken from the Doom series):
Any animal type demon
Imp
Baal
Cerberus
Pinky demon
Cacodemon
Pain Elemental
Mancubus
Cyberdemon
----------------------------------------------
Name: Starlyn Halor
Height: 5'2"
Weight: 110 lbs
Gender: Female
Race: Bull Demon (no actual demonalogistic name)
Age:15
Appearance: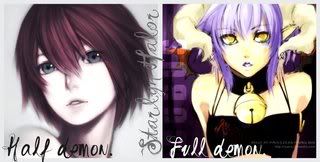 (don't need a picture, a brief description is fine)
Abilities: Starlyn has limited abilities seeing as how she is only a half demon at the moment, and they are mild body resistance towards and combat or weapon. Small fire generation can be used, but large amounts of energy needs to be concentrated.
Personality: Starlyn is an optimistic mature young woman. She is quiet and keeps to herself. Her trust in people is not easily gained and she fears to be crowded. Her maturity only goes so far, for she dreads responsibility of her own life, she's afraid to have to care for herself. She befriends people very rarely, and is not easily understood.
History: Starlyn lives with her mother, her father, though still devoted to his wife, has left to keep their planet safe, he thought it best, promising to stay when he would never be home would be a naked lie.